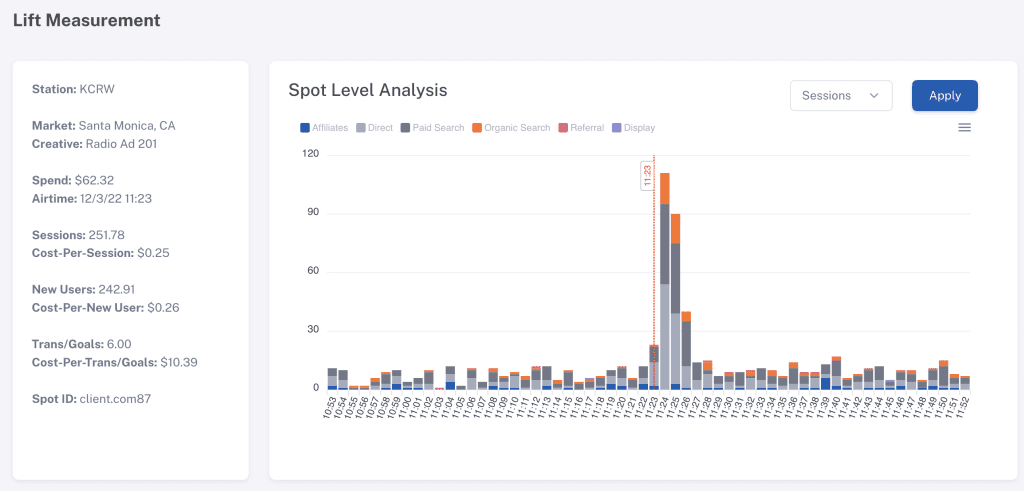 We measure the full range of TV and Radio media outlets to provide comprehensive offline media coverage. With over 20 years of experience, QA is the ideal independent choice for TV and radio attribution measurements.
DRTV Attribution Coverage
If you have a new brand or lower media budget, Quality Analytics has short campaign attribution solutions to help you with your experimental media schedule.
Local Radio Coverage
Our DMA by DMA measurement ensures precise attribution at the local radio station level. With QA's local radio attribution, you can easily evaluate your advertising campaigns and optimize them for better results.
Sirius XM Radio Attribution
QA's attribution solution for Sirius XM radio provides national scale efficiency and strong attribution measurements for buyers who subscribe to a paid premium service.
National Broadcast TV Attribution
If you're looking for the biggest scale possible for your brand, QA's national broadcast television attribution is the right choice for you. With our attribution solutions, you can measure the impact of your national broadcast TV campaigns with ease.
Local Broadcast TV Attribution
QA's local broadcast television attribution solutions are perfect for localized brands or testing TV as a medium. Our solutions can help you measure the impact of your local TV campaigns and optimize them for better results.
Worldwide TV Attribution Coverage
Quality Analytics' worldwide TV attribution solutions make it possible to measure any TV or radio ad in the world, as long as the website has Google Analytics. Our worldwide TV attribution solutions provide accurate attribution measurements across the globe.