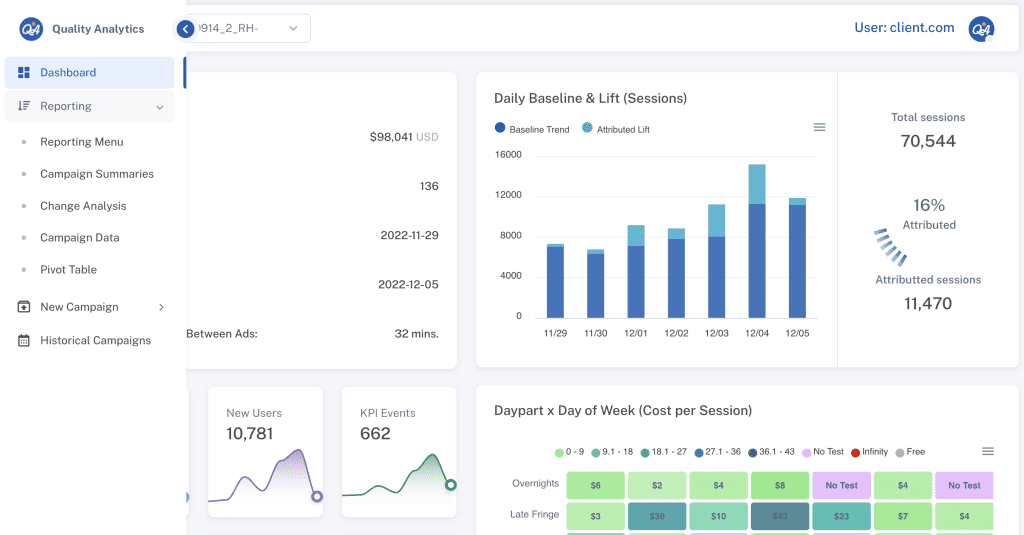 We're on the hunt to reinvent TV measurement (and Radio)
Everything you want to know about QA TV, our mission is to enable advertising agencies to deliver their best work, every time. We provide data-driven insights and analytics to help you beat the competition. Our focus is on spot-level TV analytics and radio analytics, allowing you to maximize your media spending efficiently. We are committed to delivering accurate and timely media reporting to take your campaigns to the next level. With Quality Analytics, you can eliminate waste and seize opportunities, making us the best TV attribution company for your needs.
Read more: Video Testimonials
Company Founder
The founder of Quality Analytics (QA TV), has over 20 years of experience in the marketing attribution field. With a background in economics and expertise in mathematical modeling, Jorge has held leadership roles in product analytics, web analytics, digital marketing analytics, AB testing, pricing optimization, multi-touch attribution, and customer journey modeling. He has worked with companies across various industries, including consumer packaged goods, technology, gaming, dating, automotive, cruises, entertainment, and offline media. Jorge started Quality Analytics in 2013 with a passion for helping companies solve their most critical marketing problems related to attribution modeling. He believes in building data-driven organizations and fostering a strong analytics culture within companies.
QA TV Attribution Analytics Software
Quality Analytics is a software-as-a-service startup based in Los Angeles, California. Our clients include advertising agencies, brands, and publishers worldwide. We specialize in providing critical insights to improve your TV and radio campaigns, helping you get the most out of your advertising spend. Our TV attribution software enables you to analyze local market performance and optimize your campaigns based on real-time data. With Quality Analytics, you can make informed decisions and achieve better results for your advertising efforts.
Read more: Comprehensive Offline Coverage (What we measure)
The Future of QA TV Analytics
At Quality Analytics, we are continuously advancing our TV and radio attribution platform. Our goal is to be the first AI-driven TV and radio attribution platform in the world. By combining traditional media with cutting-edge techniques, we aim to help advertisers spend their broadcast dollars wisely. We are dedicated to staying at the forefront of attribution analytics, providing innovative solutions to meet the evolving needs of the industry. With Quality Analytics, you can stay ahead of the curve and optimize your advertising strategies for maximum impact.